Just came back from London. Lots of pints were consumed. Strangely London didn't have the effect it had on me last time I was there 5 years ago. I really enjoyed myself and didn't walk around looking like I might bite anyone who looked at me sideways.
I made it to Gosh! Comics opposite The London Museum (which I didn't go into). It's a fantastic comic shop! It's not very big but has everything except a big wall of the majors. That's right folks a comic shop that focuses more on creator owned material than all that American trash. I didn't have any of my work to drop off but they have a very nice 70/30 split going on for small press titles so when I get my stuff sent over I'll get myself back there.
Whilst down in London I met up with a friend I made while I was on exchange in Orléans 9 years ago. Roger Mason was the first comic creator I had ever met. He hadn't done much at that point but had great things going on already. He introduced me to Hellboy and Bone and because of him I turned to the stark B&W style we all know and love today. It must be said the "Dicks" story "Operation Centipede" was a homage to him.
Roger has since worked for 2000AD, had 3 Bande Dessinée published in France. At the moment he's concerntrating on his own small press title "The Mice" for which he's found a small indie publisher. Here are a couple of examples of his work.
This is from "Off the Hook" which he finished in 1999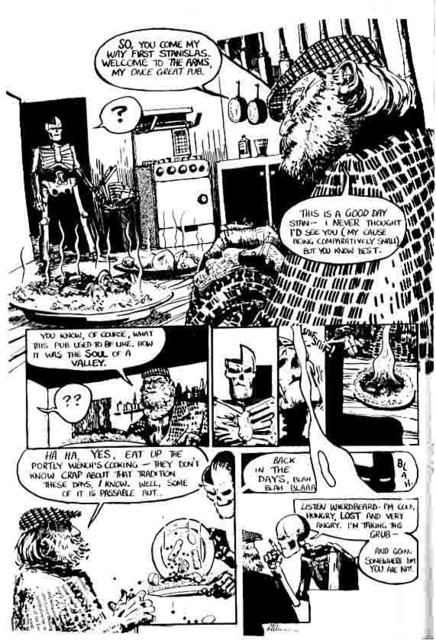 This is a page from a short story of "The Mice" The final work will be a 13 or so part GN.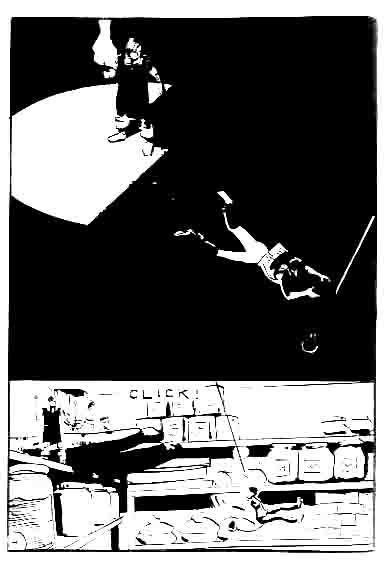 More example of Roger's work can be seen at www.looksgoodonpaper.co.uk and at www.comicspace.com/rogermason
On another note but still to do with comics- I've finally got my first articulated desk! It's a real beauty. About 90 years old, cast iron with counter weights and cogs. I'm fully equipped now- watch out comic world!
Here are a coupe of picks.